Fees, Registration, and Times

The fees for workshops are as follows:
$60 for the entire series for Atlanta Area Chapter members
$20 for individual workshops
$5 for full-time undergraduate students (pay at workshop)
To register for workshops and/or to become a member, go to Membership.
---
2018-2019 Workshop Series
*All workshops are at Chattahoochee Elementary School

"Playful Process"
Re-discover your elemental spirit through multiple creative inspiration points! Speak, Sing, Move, and Play your way through lessons inspired from many creative springboards! We will explore a day of lessons with clear music concepts at their core, that spring from many inspiration points: Move your students with eurhythmics to build a foundation for strong ensemble skills. Sing to start your creative pathway, Speak with expression as the impetus to building musicianship and compositions. Play ensemble pieces created through movement. Lessons will be appropriate for grades K-5.
BethAnn Hepburn, M.A. Music Education, University of St. Thomas, St. Paul, MN and Teacher Education Instructor for the American Orff-Schulwerk Association. BethAnn has taught music to grades pre-k to 6 for Streetsboro City Schools, with the distinction of Master Teacher from the State of Ohio. She is a former National Board Member for the AOSA, and currently on the board of Trustees for The American Center for Elemental Music and Movement, and she serves as the Ohio Music Education Association's Professional Development Chair for General Music. She is a frequent presenter for AOSA National Conferences, Orff chapters across the United States, and abroad. BethAnn is co-author of Purposeful Pathways: Possibilities for the Elementary Music Classroom Books 1-4.
We'll start this session with some play party games and discover how these activities lead straight to Jazz. An original blues song is next and we'll learn an arrangement that can be played on the Orff instruments. A great finish will be a big band arrangement for Orff instruments. Warning! Dancing and happiness may ensue!! Focus: Orff process; improvisation; orchestration; speech and movement.
Brent Holl lives in Bridgewater, Virginia, and taught middle school general music and choir in Augusta County, Virginia for 33 years. He currently teaches summer courses in Orff Schulwerk and is a national clinician and consultant in music education in the Orff Schulwerk design. He is also an artist-in-residence, traveling to elementary schools making marimbas and classroom instruments with children. He received a B. S. degree from Bridgewater College, an M.M.Ed from James Madison University, and has completed all levels of Orff Schulwerk Certification at the University of Memphis with further study at George Mason University and Hamline University. Mr. Holl is the owner of Beatin' Path Publications, LLC, a publishing house dedicated to the development of high quality music resources for classroom music teachers in the design of Orff Schulwerk. Beatin' Path Publications offers resource books for recorder, marimba ensembles, Orff ensembles, hand drumming, and general music. Beatin' Path also has a growing collection of choral octavos for singers from upper elementary to adult. Brent Holl is also a professional singer/songwriter specializing in children's songs. He has recorded and produced several CD's of children's songs for church and bible school as well has hymns and songs for the liturgy.
The middle of the school year brings special issues to the music room. How do you continue to maintain enthusiasm and creativity, not only for students, but for yourself as a teacher? How do you further community with your students while reinforcing positive behavior? How can you structure your lessons so that you facilitate higher-level learning? How can improvisation be more widely utilized? The Orff Schulwerk approach makes all of this possible. Come learn kid-tested strategies and lessons that will make your classroom a playful, organized, safe learning environment.
Tiffany English is the music specialist at Sugar Hill Elementary School in Gwinnett County, GA. She holds multiple degrees from the University of Georgia and Piedmont College. Her education also includes Post-Level III Orff Schulwerk teacher education and Level I Kodály training. Tiffany has served the American Orff-Schulwerk Association as Region IV representative on the National Board of Trustees, chair of the Professional Development Committee, president of the Atlanta Area Orff Chapter, and co-chair for the 2014 AOSA Professional Development Conference in Nashville, TN. She also served on the AOSA Executive Committee as Vice President, 2015-2017, and currently serves as AOSA President. Tiffany was named the Gwinnett County Teacher of the Year in 2007.
Dr. Julie Scott is Professor of Practice and Co-Chair of Music Education at Southern Methodist University in Dallas, TX, where she teaches courses in elementary and choral music education. Prior to teaching at the college level, Dr. Scott taught elementary music and choir in Texas schools for over 20 years. During that time, five of her elementary groups—three Orff and ensembles and two choirs—were invited to perform for the Texas Music Educators Clinic/Convention. Dr. Scott has taught summer Orff Schulwerk courses to adults at eight universities over the past 25 years and has presented over 200 conference sessions and workshops for AOSA, OAKE, state MEAs, Orff chapters, and school districts throughout the US. In addition, she has presented at international conferences in Scotland, Greece, Australia, China, Italy, and Thailand. Dr. Scott is a past president of the American Orff-Schulwerk Association and Founder/Director of SMU Music Educators Workshops.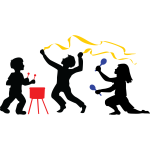 April 13, 2019 | 9am-1pm
Chapter Share Session & 40th Anniversary Celebration
Members who attended the November Professional Development Conference in Cincinnati, OH will share some of their favorite activities and ideas from conference sessions as the chapter celebrates its 40th anniversary.