Workshops
We'd love to see you at any of our yearly workshops so that we can share our love of the Orff approach and help you gain ideas to use in your classroom!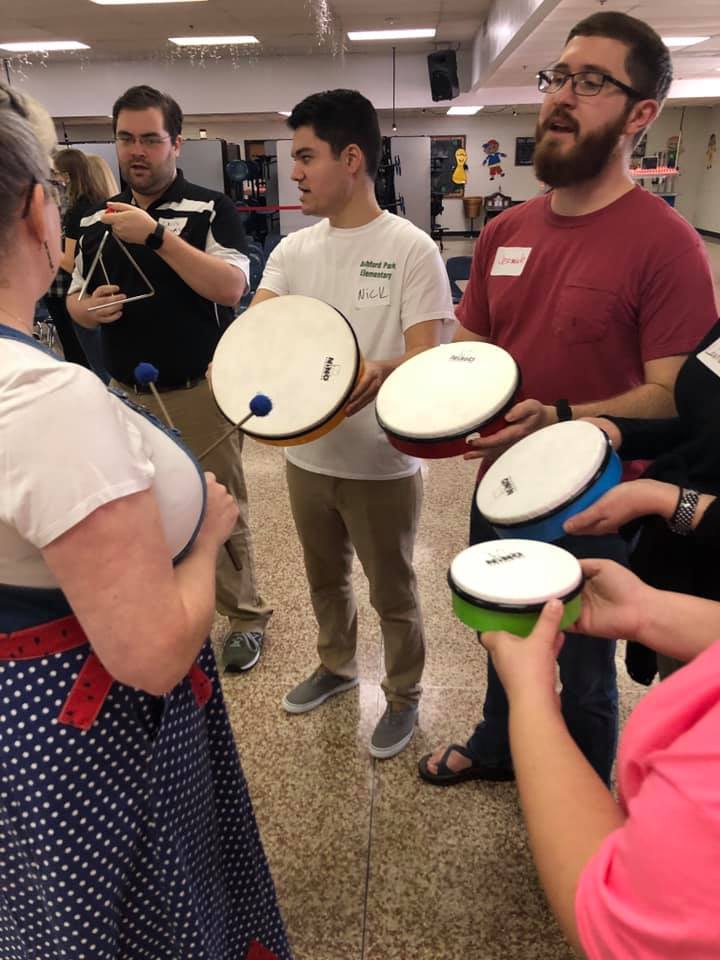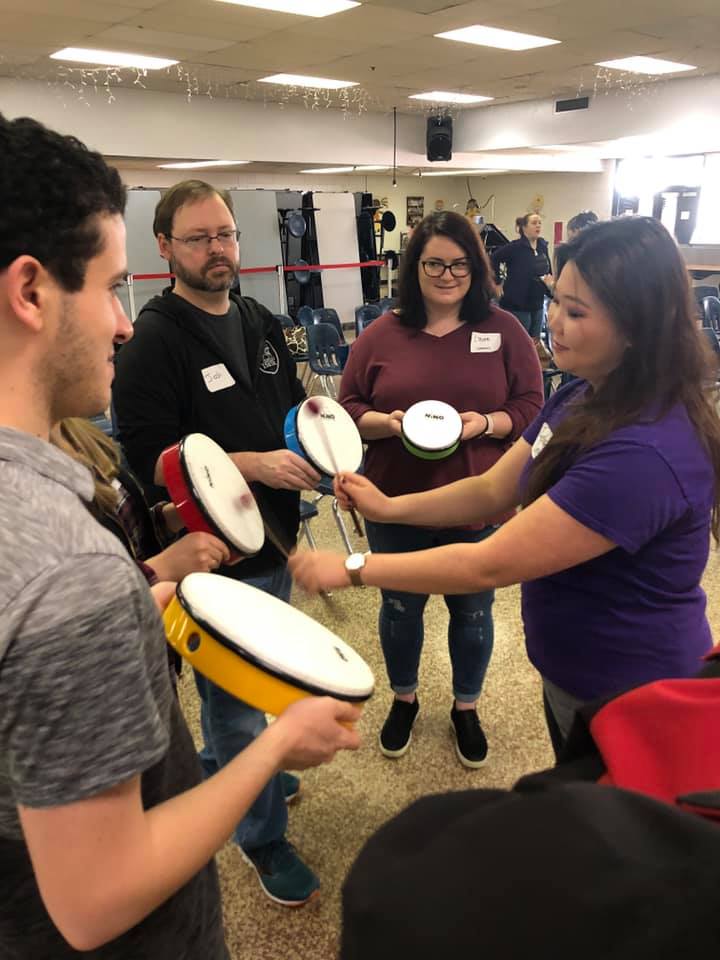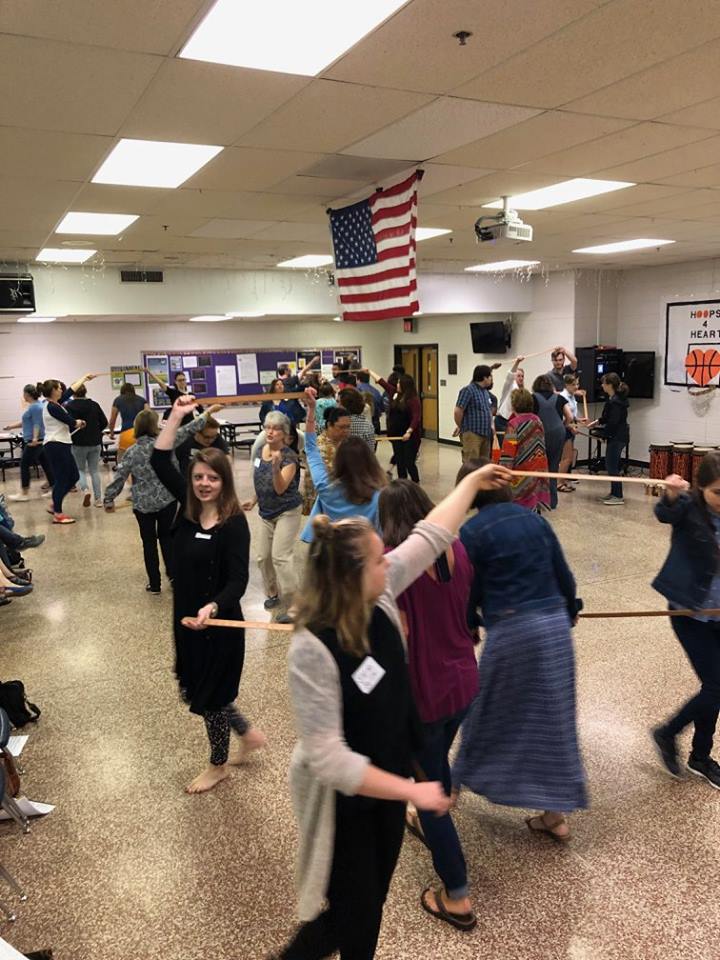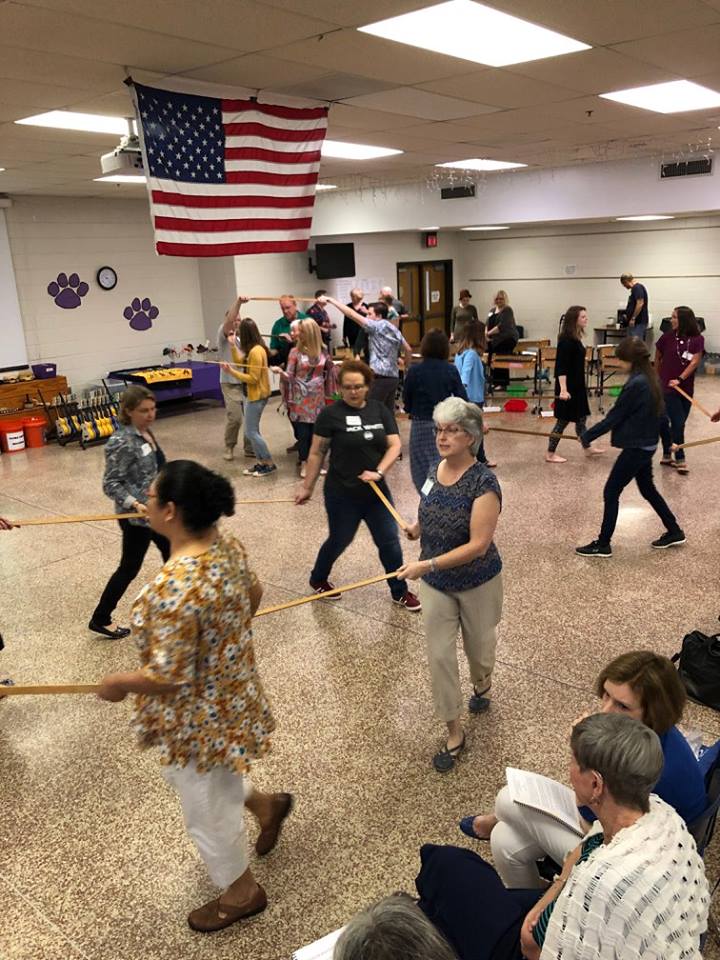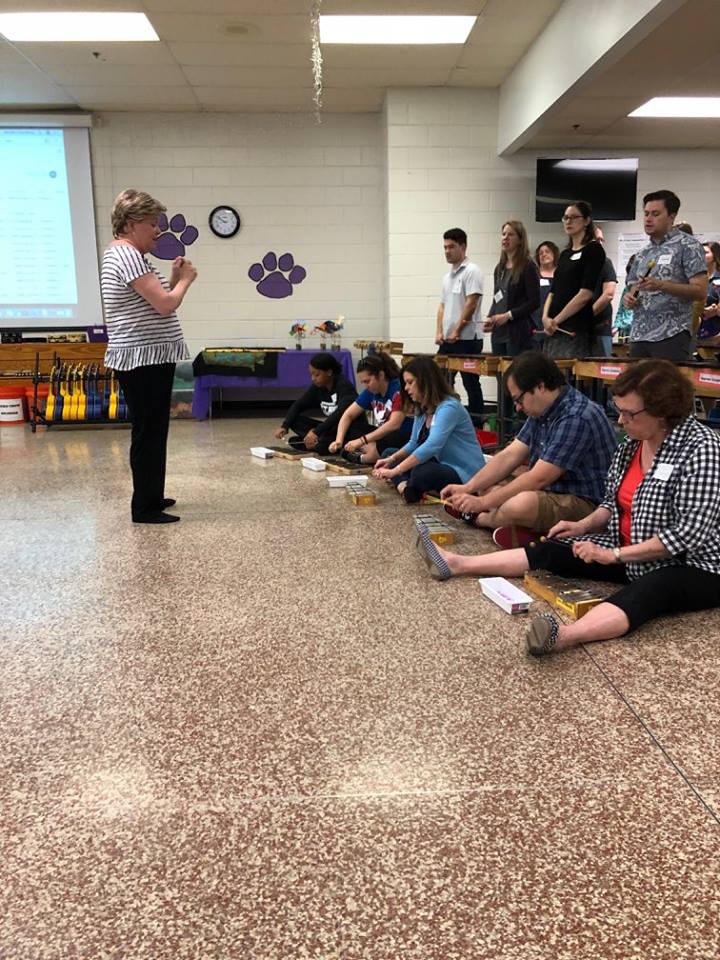 What to expect at Our Workshops
Workshop participants do not need to be trained in the Orff Schulwerk approach in order to attend – in fact, we love to introduce new people to the magic of Orff! Music teachers and other educators are welcome to attend our workshops, and need not become members of Atlanta Orff or AOSA in order to participate. Pre-registration is not necessary.
Preparing for your workshop:
Expect to move, sing, create, and play! You'll be actively exploring elements of Orff pedagogy, experimenting with composition and improvisation processes, and generating practical ideas for your classroom. Printed workshop notes are included with each session – participants are welcome to jot down notes of their own, but Orff Schulwerk is best experienced through immersion in the process
Wear comfortable clothes and shoes that allow you to move about freely (some participants choose to work barefoot or in dance shoes). Bring along your soprano recorder if you have one. To accommodate participants with allergies, we ask that you refrain from strong fragrances. Most of our workshops are from 9:00 to 1:00. Snacks are provided!
Fees, Registration, and Times
$30 for Local Membership
$100 for Local Membership and full workshop series
$25 for individual workshops (Chapter Members)
$40 for individual workshops (Non-Members)
$40 for Local Membership and full workshop series for retired teachers
Workshops are free for full-time undergraduate students and student teachers
To register for workshops and/or to become a member, go to Membership.
"Back to the elementals: playful stories, building blocks, and creative movements as a way to learn, create, explore, and bring awareness to the classroom."
June 22 | Virtual Workshop | 6pm-8pm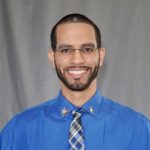 Liban O. Gómez was born in the Dominican Republic and has been teaching for 13 years at The School of Higher Expectations P.S. 66 in the Bronx, New York City. Liban previously taught grades 2 and 5 working particularly with the English Language Learners. He has been teaching General Music and Music Through Literacy to students from Pre-K – 5th for over 10 years. In addition to that, he also teaches violin after school at the same school. At The City College of New York, he received his Bachelors' Degrees in Childhood Education, Italian Literature and Language, and Mathematics followed by a Master's in Teaching English to Students of Other Languages (TESOL). He completed his Orff Levels I and II in New York City and obtained his Orff Certification at George Mason University. He is the current president of the New York City Chapter of AOSA. Liban frequently and actively attended numerous workshops offered from different parts of the world. Liban is a polyglot and has traveled around the world to learn and explore other cultures. He loves and enjoys teaching, movement, sports, traveling, and photography.
Come join us for a fun night of learning!  This workshop will be held via Zoom and is $30 for members and nonmembers alike.  Click below to register.  We hope to see you there!
Gretchen Wahlberg and Sandy Lantz
September 25, 2021 | Chattahoochee Elementary | 9am-1pm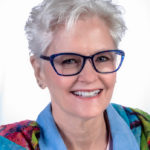 Come Mix It UP with Sandy and Gretchen.  Bring a ukulele and recorder and enjoy learning/reviewing basic chords and strumming and in addition, learn strategies to integrate this wonderful instrument in your classroom!  Who doesn't love to drum??? Bring your drum and play with us!  Lessons will include primary through intermediate activities, as well as, performance ideas.  Finally, add some children's lit to the MIX!  Enjoy some wonderful children's books and help them come to life with drama, singing, playing and improvising.
Sandy Lantz and Gretchen Wahlberg have taught elementary music in Florida for over 38 years. They have conducted All-County performances in Polk and Osceola counties. In January 2016, Sandy and Gretchen were clinicians and conductors for the inaugural All-State Orff Ensemble in Tampa, Fla for the Florida Music Educators Association conference. Last fall, they also directed the first annual FEMEA South Regional Orff Ensemble. For over 20 years, they have co-taught Level I teacher training courses sponsored by the Central Florida Orff Chapter, Stetson University, Florida Gulf Coast University and Florida International University. They have co-taught workshop sessions at National Orff Schulwerk conferences, as well as, numerous state music conferences throughout the US. Together they have written the books, "Drum It Up", "Creative Bits with Children's Lit", "Strum It Up" and "S'more Bits with Children's Lit".
"Playful Yet Effortless: Using the Schulwerk to Enhance Creativity"
October 30, 2021 | Brumby Elementary | 9am-1pm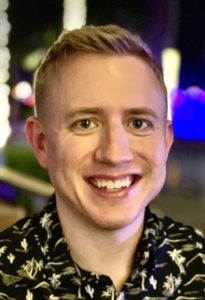 There's always a place for creation – a folk dance with a twist, a chance to explore the xylophone, or an opportunity to see what your body can do with one word – but pulling these ideas from our students can be challenging. Let's go back to the Schulwerk roots of playfulness, discovery, and wonder as we explore these ideas and more through student-led choices, improvisation, risk-taking, and more. We'll unearth the unexpected, so join us on the journey!
Matthew Stensrud  teaches kindergarten through fourth grade general music at Sidwell Friends Lower School in Washington, DC. He completed his Orff Schulwerk certification at the San Francisco International Orff Course in 2013 and is an Orff Schulwerk Certified Teacher Educator of Movement, currently teaching at the Portland Orff Course in Portland, OR. Matthew serves as President of the Middle Atlantic Chapter of AOSA and on the Editorial Board of The Orff Echo, the quarterly publication of AOSA. He was also a Key Content Contributor to the book, Responsive Classroom for Music, Art, PE, and Other Special Areas. He was Teacher of the Year in 2017 and recognized with the Spotlight Award by the American Center for Elemental Music and Movement in Summer 2017. He lives with his husband in Alexandria, Virginia. You can find Matthew on social media @MisterSOrff on Facebook and Instagram, as well as on his YouTube page, or at www.mistersorff.com.
January 15, 2022 | 9am - 11am | Virtual Workshop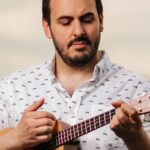 Have you ever written your own songs? Come up with your own pieces?… As music teachers we encourage expressiveness, imagination, originality, and creativity in our students. How often do we explore this realm on our own? Fear not as Rob will help you sail the creative waters as he shares some of the systems and tools he uses for this fantastic purpose!
Rob DelGaudio is a composer and elementary music educator based in Westchester, NY. He holds B.M. and M.M. degrees from Manhattan School of Music and Hofstra University. He received his Orff levels training at Hofstra University, Villanova University and George Mason University. Rob creates content for music educators on YouTube. His channel, Music With Mr. DelGaudio features his original songs and lesson ideas and currently has over 7,000 subscribers. Additionally, he is a graduate of the prestigious BMI Musical Theatre Writing Program. He is the creative director of his own theatre company, Pancake Productions, the leader of the Tarrytown Ukulele Jam and the author of a Barnes & Noble exclusive book titled "Music".
This workshop is virtual and will be $10 for members and nonmembers alike.  It is not included in the workshop series.
"Keeping the P.L.A.Y. in the Schulwerk"
February 5, 2022 | Mary Lin Elementary | 9am-1pm